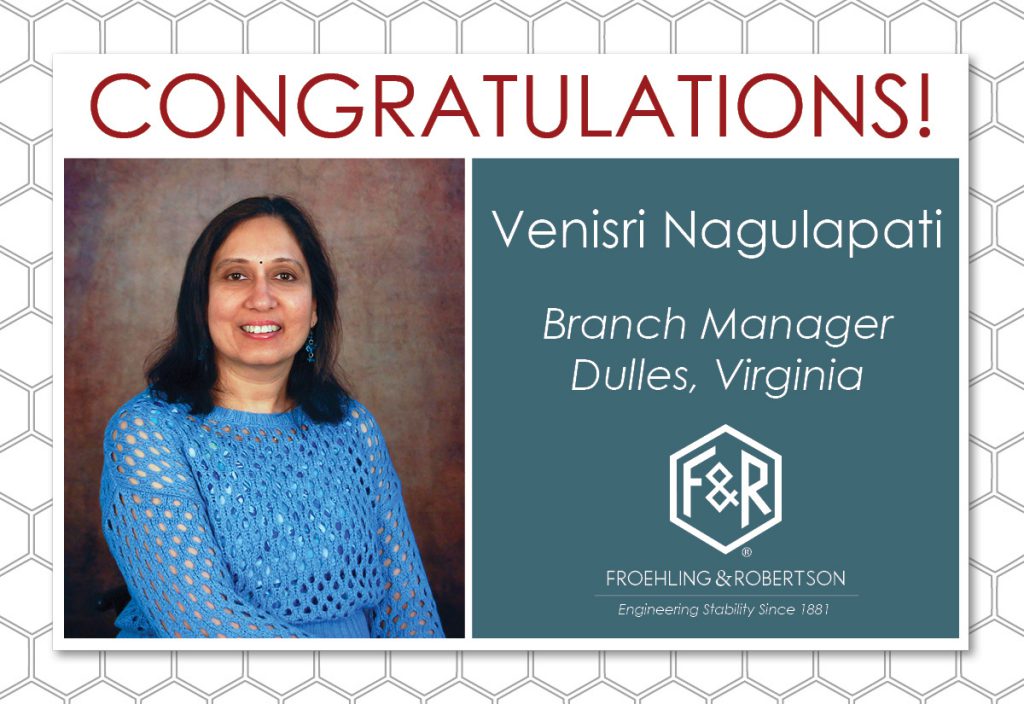 F&R is pleased to announce that Venisri Nagulapati, PE will be serving as the Manager of our Dulles Branch.
"I am excited to have Venisri take the reins of our Dulles Operation. She brings with her a wealth of engineering knowledge, as well as years of experience building and running successful Geotechnical/Construction Materials Testing operations. Venisri will provide leadership, direction, and stability to grow operations into the future." ~ Allen Parker, PE, F&R Regional Vice President
Venisri joined F&R in 2017 as the Director of Monitoring Services. She has been working closely with the Dulles technical staff since then, managing numerous F&R projects for clients in the Metro-Washington region. A few of the more notable projects on which Venisri has overseen the inclinometer monitoring, vibration and noise monitoring, and pre-construction survey services include: Reston Gateway Towers, 1900 N Street NW, 1900 Crystal Drive, and Amazon HQ 2. Venisri says she enjoys the diversity of projects in the DC region. She notes, "F&R works on such an interesting variety of public and private projects: historic structures, high-rises, schools, airports, and highways. I look forward to continuing to serve our clients across all of these market sectors with timeliness and excellence of service."
Before joining F&R, Venisri gained over twelve years of leadership experience as the Branch Manager, then Assistant Vice President of a reputable geotechnical engineering firm in Washington, DC. During that time, she served as the SIER (Special Inspections Engineer of Record) and GER (Geotechnical Engineer or Record) for many notable projects such as American University's expansive new East Campus development, the Arlington Mill Community Center, and several Wegmans stores.
Venisri earned her Bachelor's Degree in Civil Engineering from Osmania University. She then went on to earn a Master of Technology in Geotechnical Engineering from the National Institute of Technology, Warangal, and a Master of Science in Structural Engineering from the University of Windsor.
Go get 'em, Venisri!