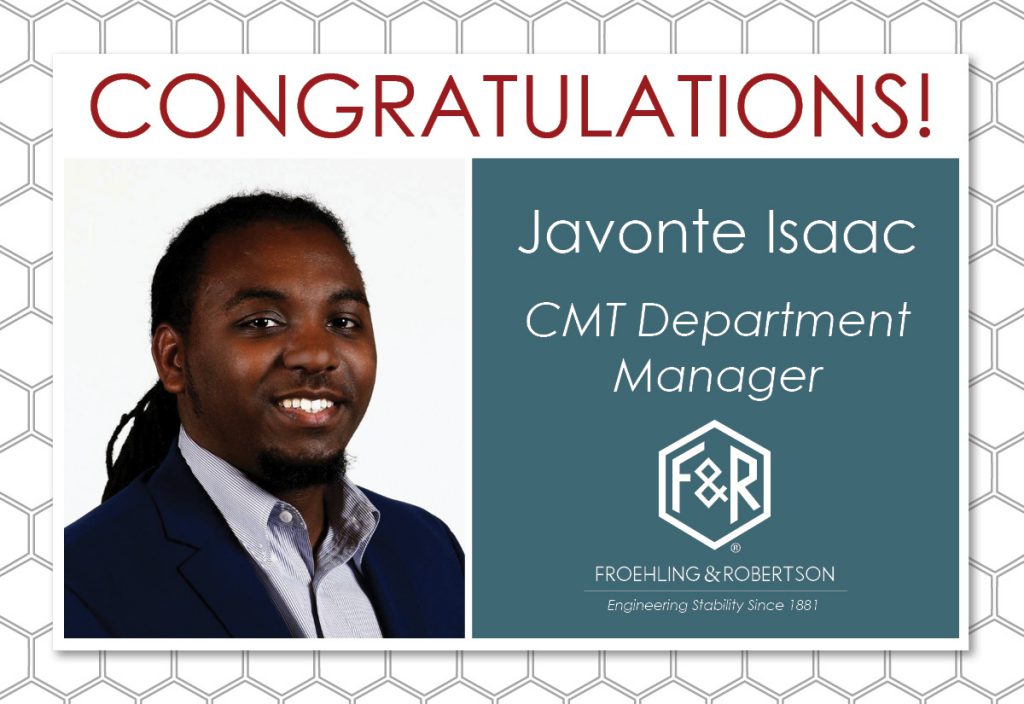 F&R is pleased to announce that Javonte Isaac has been promoted to CMT Department Manager for the Chesapeake Branch!
Javonte came to F&R last fall as a CMT Project Manager. He has since played a key role in F&R's work at the PN91397 Research Facility in Duck, NC and at the Fort Eustis AIT Barracks Phase IV.
F&R Chesapeake Branch Manager, Jed Mayes, PE, had this to say:
"Javonte was selected for this role because of his strong background in project management and his experience managing technicians. Since Javonte started with us in September, I have seen his hard work and dedication as he dove into the existing project work load and became proficient at SpectraQEST. He has also been proactive in trying to fix issues before they happen. Javonte meshes well with other members of the team and I look forward to working with him to continue to grow the F&R Chesapeake Branch."
Javonte earned his Bachelor of Science in Civil Engineering from the University of South Carolina. Prior to joining F&R, he worked as a Project Manager for a reputable geotechnical engineering firm in the Carolinas, working on sizeable military, industrial, dam repair, and public works projects.
F&R is delighted to have him take on the critical role of CMT Department Manager and congratulates him on earning this promotion!