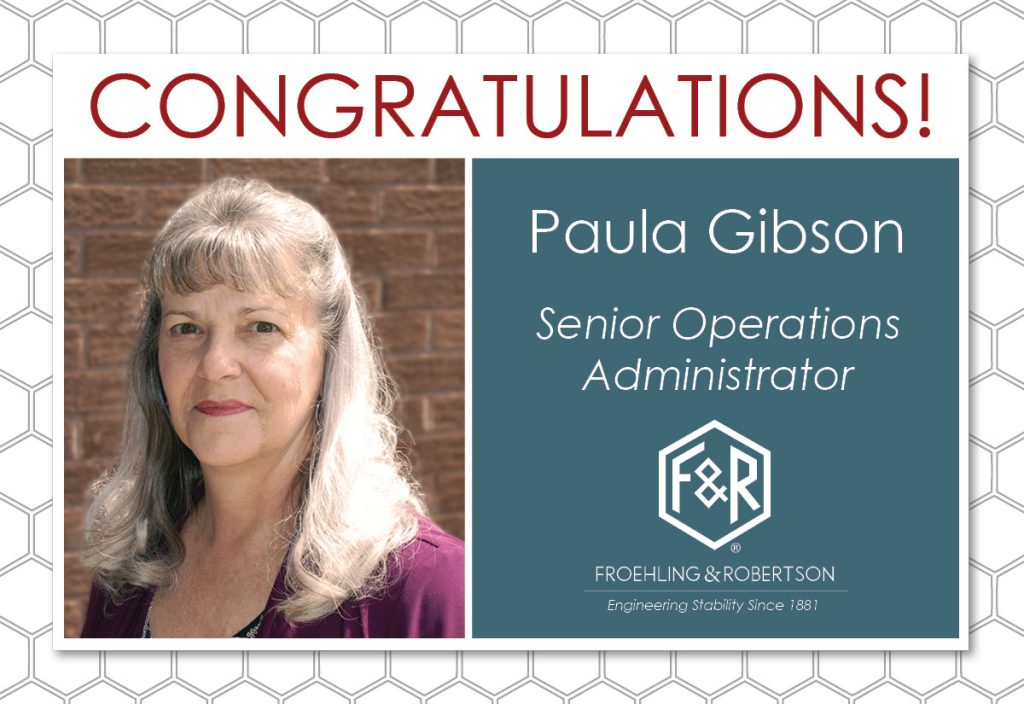 F&R is delighted to announce that Paula Gibson has been promoted to the new role of Senior Operations Administrator.
Paula joined F&R in 1994. She started as the Receptionist for the Raleigh office and was later promoted to the role of Branch Administrator. Now, as Senior Operations Administrator, Paula will be collaborating with the Chief Administrative Officer to support continuity of administration across all of the F&R branches. She will be active in training Branch Administrators and coordinating coverage of their absences. She will also coordinate the content and logistics for the annual Corporate Administrative Professionals meeting.
Over the last 27 years, Paula has seen a lot of changes in how administrative tasks are handled. She remembers when the fax machine used rolls of paper, forms were filled out on a typewriter, and technicians had pagers rather than cell phones. She has led the Raleigh office in adapting to new technologies for administrative processes. Although Paula will be undertaking additional responsibilities in her new role, she will continue to support the Raleigh office as the Lead Administrator. She says she is excited to now be able to work with Corporate to define administrative roles, expand training, and help all the Branch Administrators be more unified and informed.
Paula's husband's service in the Air Force allowed them to travel on several tours of duty, domestic and abroad. Following retirement from the military, her husband began working for the City of Raleigh and Paula began her career at F&R. Outside the office, Paula enjoys spending time with her family, especially if that involves watching a University of Alabama football game! They have four children and eight grandchildren and are active in their local church and in serving their community. With talents in sewing, embroidery, and other crafts, Paula enjoys making baskets and bows given out to those in need.
After 27 years of contributing to the success of the Raleigh branch, F&R is delighted to now have Paula in a position to positively impact all of our locations.