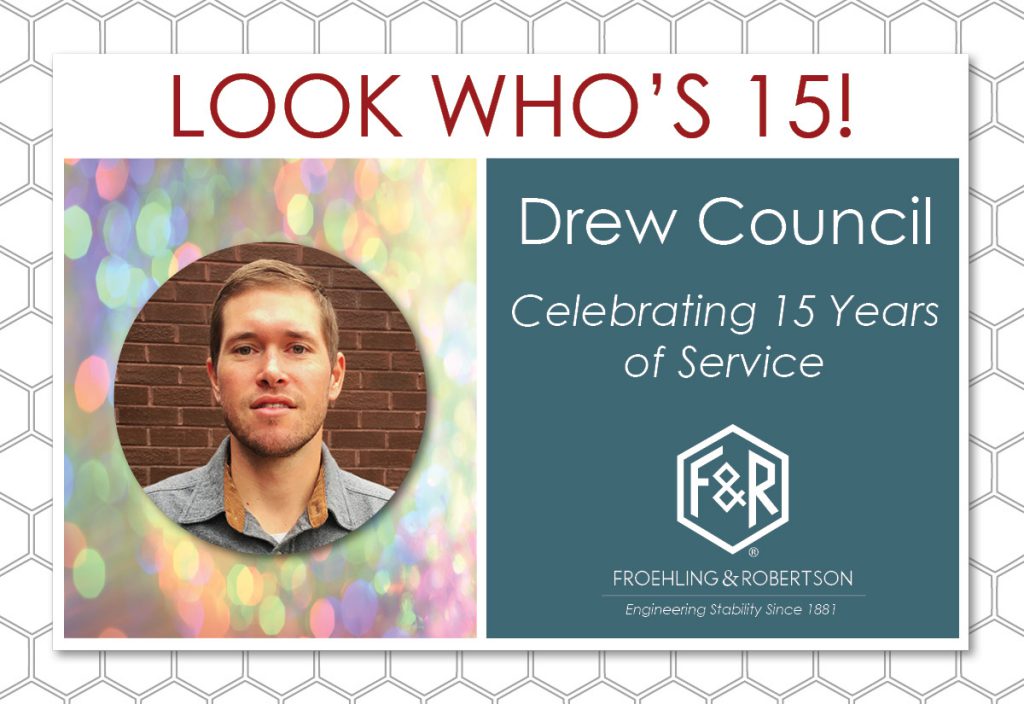 Today we celebrate Drew Council's 15 years of service at F&R!
Drew began his journey with the F&R Raleigh office as a construction materials testing technician and quickly advanced to become a seasoned Special Inspector. During his stint as a Special Inspector, Drew has worked on some of the most prestigious and complex projects to the delight of our clients, including the East End Zone expansion of the Kenan Memorial Stadium at UNC Chapel Hill, the Asheboro Bypass (Interstate 74), the Raleigh Union Station and the Raleigh Remote Operations Center.
In recognition of his dedication, hard work and loyalty, Drew was promoted to the Laboratory Manager position in 2017, and was later assigned the additional responsibility of Branch Radiation Safety Officer in 2019. Drew not only learned various laboratory testing procedures with ease, but also mastered the more complicated testing procedures, including Triaxials, consolidation and permeability testing. During his tenure as laboratory manager, Drew mentored laboratory staff, streamlined work flow procedures, updated laboratory forms, established training procedures, and organized laboratory work spaces all while completing laboratory tasks on time and within budget.
"Drew is a quick learner, well mannered, soft spoken, calm and collected, organized, efficient, gracious, and punctual. Drew has been a model employee with the passion to not only make himself better every day, but also making others around him better! Drew set the bar high for everyone to follow and is the shining example for all of those with the right attitude, dedication and hard work, dreams will become a reality! Congratulations Drew on your 15-year anniversary, and thank you for choosing to be part of F&R family. We appreciate all you do for us and wish you many more years of success!" ~Santhosh Mahavadi, PE, Asst. Branch Manager