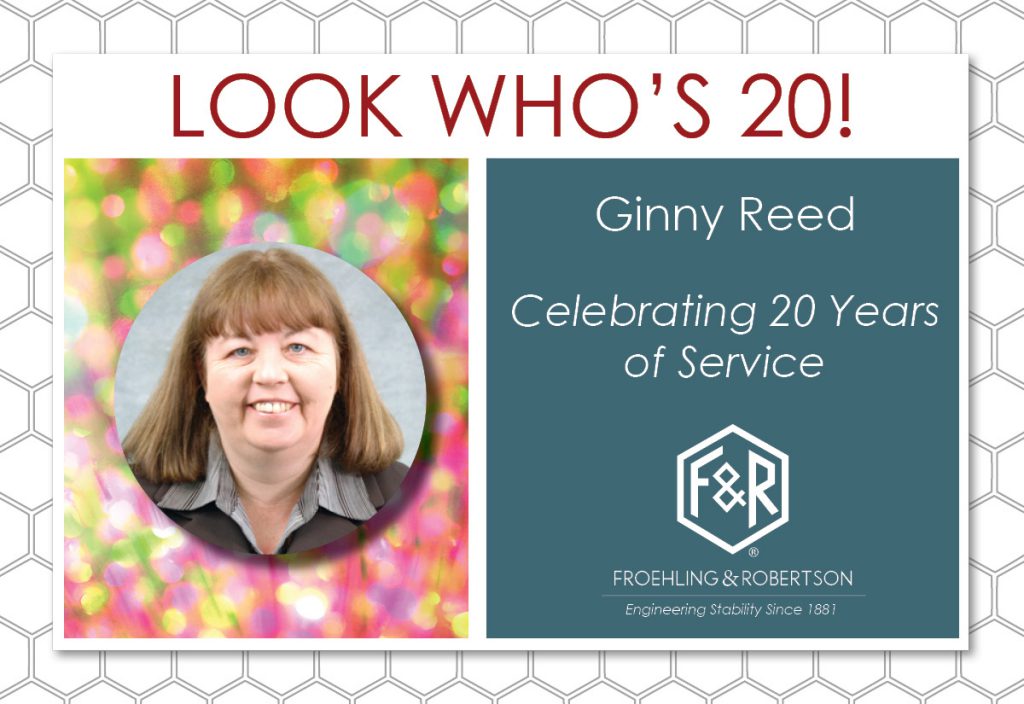 Happy 20th Anniversary to the Real Boss!
Ginny is the Office Administrator for the F&R Roanoke branch. "The people here feel like family," she says. "They're just good people and that makes for a great work environment."
Much like Ginny is an integral part of the F&R Roanoke office, her family is part of the very fabric of the city of Roanoke, with four generations born and raised in that beautiful part of the Blue Ridge Mountains! Ginny loves spending time with her two grandchildren, often taking them on fishing trips to the lake. Softball practice fills the remaining time between work and fishing trips. Her nine year old granddaughter comes by her softball talents naturally, as Ginny herself coached, and both her daughters played softball. "We actually had a company softball game at one of our summer picnics years back," Ginny reports. She says those company picnics and holiday parties are some of her favorite memories of working at F&R and that she looks forward to hopefully being able to get back to doing those again soon.
Here are a few notes from Ginny's "Family":
"From the first day that somebody starts working in the Roanoke office they realize that Ginny is the real boss.  She keeps everything moving and everyone in line – which is a considerable task!  Ginny's efforts are a tremendous asset to not only the Roanoke office but to the entire company.  Thank you for everything that you do!" ~Jessyca B. Woodruff, P.E., Branch Manager
"I can honestly say that I have never worked with another person that I could trust and depend on more than Ginny. When I was the Branch Manager and I would ask her to do something – I never heard back. I would have to ask – "did you do that?" She finally said "why do you keep asking me? Of course I did, you asked me to!!!!" I learned right then and there she was special. Not only does she get the job done, she gets it done right, with no complaint, and she cares – she does have some fire in her though. Ginny Reed – You are the best!!! Congratulations on 20 years. You are a real trooper. I cannot wait to see what the next years will bring, can you?" ~Gary Bruce, P.E., Regional Vice President
"Since my first day with F&R almost 4 years ago, Ginny has been a huge help to me. She is very friendly and approachable. I'm very grateful for Ginny's wealth of knowledge and her willingness to share it. I can only imagine how many others she has helped in her 20 years of being with F&R." ~Karman Bergum, Charlottesville Admin
"Ginny, it has been a pleasure working with you for the past 20 years. Although we only physically see each other once a year, I always know I can count on you if I ever need help. Congratulations on your milestone anniversary and may you have many more years at F&R." ~Paula R. Gibson, Raleigh Branch Administrator
"Regarding Ginny, I would say that she is a very dedicated and knowledgeable Admin who takes her role at F&R seriously. When there was an abrupt change in 2017 resulting in my becoming the interim branch manager in Roanoke, only then did I realize this in full. She was on top of her game and made things much smoother for all of us thanks to her knowledge and attitude. I'm thankful to have worked with her for 15 of her 20 years!" ~Paul T. Bryan, P.E., Corporate Director of Business Development