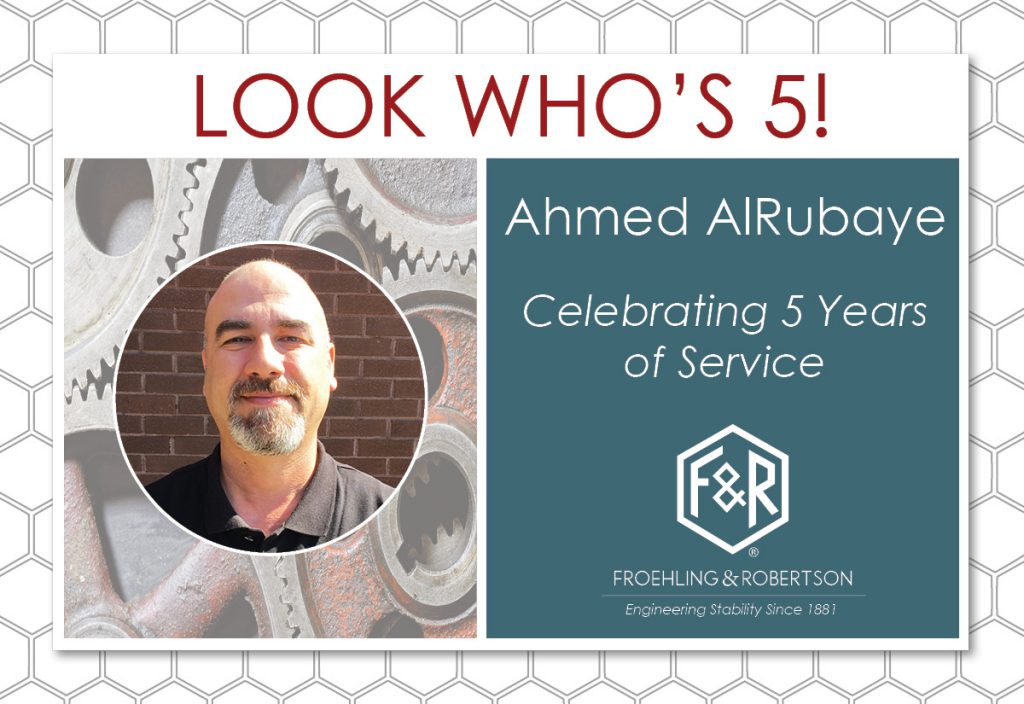 Special Inspector Ahmed AlRubaye Celebrates Five Year Anniversary!
That's MASTER Special Inspector, to you, buddy.
Ahmed began his journey with the F&R Raleigh office as a construction materials testing technician in 2015. With hard work and dedication over the past five years, Ahmed quickly learned the complexities of foundation engineering and construction materials testing techniques. He worked hard to obtain ICC certifications in Soils, Reinforced Concrete, Structural Masonry, Structural Steel and Bolting, and Structural Welding. Ahmed now has the distinction of being a Master Special Inspector and is currently studying to take the EI exam.
Ahmed is held in high esteem among his peers, as evidenced by him being voted to receive the F&R Employee of the Year award in 2018, and by these commentaries on his work:
"Ahmed is well mannered, hardworking, and has the passion do it right! He has worked on numerous prestigious projects and the office often receives comments from clients praising his work. Some of the projects he has helped to build include: The Flats at 540 in Apex, NC, Park Side Elementary School in Morrisville, NC, and, most recently, the City of Raleigh's Law Enforcement Training Center project. Congratulations, Ahmed, on your 5-year anniversary. We appreciate your hard work and wish you success for years to come!"
~Santhosh K. Mahavadi, P.E., Assistant Branch Manager
"I have worked in our profession for almost 41 years, and in all my career, I have never worked with a more dedicated individual than Ahmed AlRubaye. Clients and structural engineers on projects have praised Ahmed many times for his detailed observation and attention to detail. One structural engineer told me he had never worked with a more knowledgeable Special Inspector in his career, and even admitted to me that Ahmed caught many deficiencies that he himself had overlooked during a walk-through.
F&R is very fortunate to have Ahmed as an employee, and he is always eager to help others learn. As a Project Manager, Ahmed has made my job a lot easier. There is no one like him."
~ Michael W. Sloan, P.E. Senior Engineer