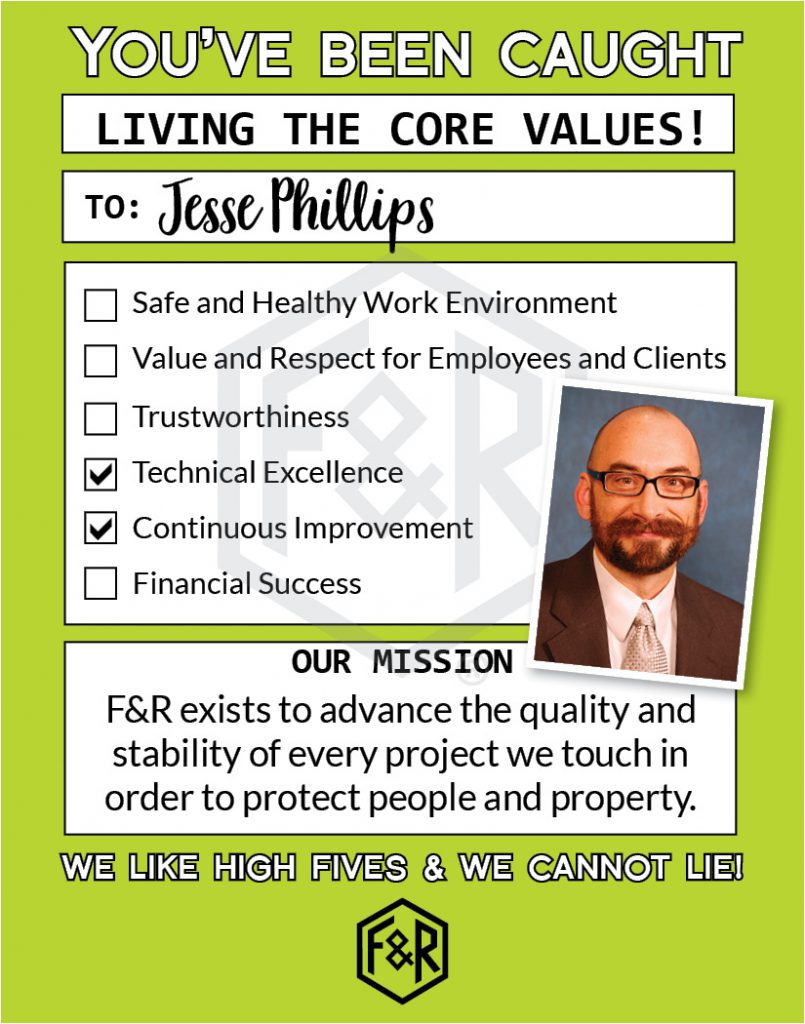 Congratulations to F&R's Industrial Hygiene Services Practice Leader Jesse Phillips, who just earned his Certified Industrial Hygienist (CIH) certification! CIH is the highest accreditation achievable in the field of Industrial Hygiene.
"We are so proud of Jesse for his great accomplishment! His proven technical knowledge, ethical conduct, and superior service are embodied by this certification. Our clients and our company are in great hands."
~Christy L. Slaw, Director of Environmental Services
Jesse Phillips (ahem, that's Jesse Phillips, CIH to you, buddy) came to F&R in 2006 as an Engineering Technician. His stellar work ethic and investment in continuous improvement propelled him to roles of increasing responsibility. He has served F&R clients through a variety of roles over the past 14 years: beginning as a Technician, then as a GIS Analyst, Environmental Scientist, Assistant Radiographer, EPA Lead Renovation, Repair, and Painting (RRP) Instructor, and now in his current role as a Senior Environmental Practice Leader for Industrial Hygiene Services.
Jesse has been working for some time now towards the CIH certification, which has extensive education and experience requirements. He began the exam preparatory course in January and was ready to take the exam this spring, but the examination facility canceled testing due to COVID. So he was doubly ready for his new exam date this October, having had the "opportunity" to study all the materials and enjoy the exam preparation process all over again.
Thankfully, his determination paid off!
Congratulations, Jesse Phillips, CIH!