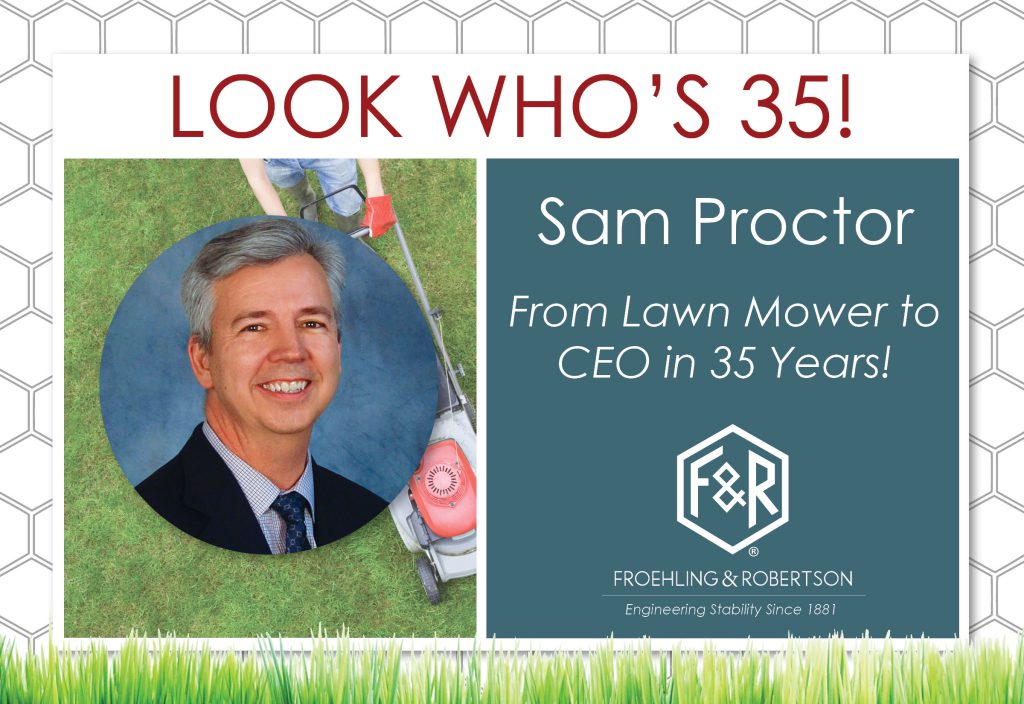 Today's a big day for us at F&R. Our CEO and Owner, Sam Proctor, is celebrating 35 years working at F&R. F&R is a family-owned firm but Sam didn't just show up and start being CEO – oh no. His father, the late Arnold Proctor, was not having any of that.
Sam Proctor started working at F&R as a part time employee in 1976 – as the yard boy mowing lawns. He's cracked cylinders, operated the drill rig, answered phones, and performed just about every task in between. Now as CEO, he is responsible for F&R's total company performance – and has been known to still answer the phones occasionally.
Sam is the third generation in the family business, having grown up under the tutelage of his late parents, Mimi and Arnold Proctor as well as numerous F&R mentors along the way. His parents taught him the value of hard work and doing all things with integrity and honesty through the use of sound science and conservative fiscal practices.
As Sam's co-workers and employees, we have a lot to say on the matter:
"I've had the privilege of knowing and working with Sam for almost 30 years.  He's always up for a challenge and willing to go the extra mile to keep the clients happy.  Whether that means going out in the field with the drill crews or simply taking a client to lunch, he's your man. You might even catch him in the lab doing a concrete mix design or a soil test on occasion. His commitment to F&R truly sets an example for all of us! Here's to 35 more!" ~Jackie Clingenpeel, Executive Assistant to the CEO
"I can't tell you how much I've enjoyed pairing my "outsider's" perspective with Sam's 35 years of experience to help drive F&R to new heights. Sam's knowledge and understanding of F&R's history, culture, and experiences is invaluable as we work together to take F&R to the next level. Congratulations, Sam, for 35 dedicated years of service to F&R, its employees and its clients." ~Michael Matthews, PE, President and Chief Operating Officer
"Sam, WOW 35 years officially! A 'lifetime of service' to F&R would be a better marker. Your experiences have ranged from Field Technician to Business Development, CEO, and Chairman of the Board. Hampden–Sydney's motto fits well here: "Huc venite iuvenes ut exeatis viri." (Come here as youths so that you may leave as men.) For nearly a third of F&R's existence you have been a driving force of change and success. Congratulations. I and everyone at F&R THANK YOU for your service, support, and leadership." ~Ken Dalton, Chief Administrative Officer
"It has been an honor to work with and learn from Sam since beginning with F&R in 2016.  He is a gracious and caring leader who truly puts the needs of employees first.   I look forward to the exciting future his leadership continues to manifest for F&R.  Happy "official" 35th anniversary!  Thank you, Sam!" ~Tara Mosby Brown, Vice President, Human Resources
"Looking back over my last 23 years of working here, I feel like F&R has been home away from home and that I've grown up here.  During this time I've had the privilege of getting to know Sam and work with him on numerous initiatives.  I've greatly appreciated the opportunity to be a part of the F&R family.  Congratulations to Sam on his 35th anniversary and I'm looking forward to many more years!" ~Christy Slaw, Director of Environmental Services
"Sam is just about the classiest guy I have ever had the good fortune to know. He doesn't put on airs and treats all people with the utmost respect. When you talk to Sam you have his undivided attention. Sam's sense of humor is wonderfully dry and just the right amount of juvenile (or maybe that's just for my benefit). This company means the world to him not only because it is his family's legacy – but he is also downright proud of what we do every day and the contributions we make to the stability of our world. Thank you Sam, for allowing us to be stewards of the F&R legacy and, for welcoming us into your family". ~ Heather Monk, Marketing Director
"Back in 1988"…A Reflective Novella on Sam Proctor's Journey – Courtesy of Alan Tuck, Director of Code Compliance & Training.
Back in 1988 when I was the branch manager of F&R-Chesapeake, Arnold Proctor (Sam's father) called me and asked if he could send young Sam down to F&R-Chesapeake to learn what F&R was about, from the ground up.  He told me to treat him just like any other technician and not to cut him any slack (just because he was Sam Proctor). If you had known Arnold like I knew Arnold, you knew that he meant EXACTLY what he said about not cutting Sam any slack.  Well, Sam started at F&R in Chesapeake and just like everybody else, we trained him up to the point where he was pretty dad gum good, in the field in both the concrete and soils disciplines.  We won a huge project at Anheuser- Busch in Williamsburg, VA and assigned Sam as one of the soils technician on a massive earthwork operation; the grading contractor was working 20 hours a day non-stop and F&R had soil technicians present full-time during all earthwork operations.  Sam was working the graveyard shift and going hard 10 hours per day – six days per week and it was dirty and HOT!
Word got back to Sam Kirby (our President at that time) that young Sam was working 10 hour days – six days a week as one of our primary soils technicians at Anheuser-Busch.  Well Sam Kirby did not like the fact Sam Proctor was being treated just like an every-day F&R technician.  I'll never forget his words to me and they were not too friendly either, "Alan, this is Sam Proctor, the owner's son – NOT a run of the mill technician".  We argued about it not for just a day but for weeks and Sam Kirby wanted young Sam to come off of that Anheuser-Busch project.  I told him about Arnold Proctor's words to me about not cutting Sam Proctor any slack.  Well, Sam remained on the Anheuser-Busch project and did a great job. I suspect that, even today, that soils job at that Williamsburg Brewery has a special place in Sam Proctor's heart (It certainly does in mine).
Finally, I just want to say that Sam Proctor never once complained to me about anything (let alone working at Anheuser-Busch); he did everything that we asked him to and not only learned a lot about the work of an F&R engineering technician but he became damn proficient at it.  I was honored, at the time, that Arnold Proctor entrusted Sam to me and my office to start his F&R ground level training (no pun on the Anheuser-Busch project).  I am honored still today to have, in some small way, worked with Sam Proctor when he was a really young 24 years old as he "learned the business".  I just wish that more of our F&R people actually knew that Sam (our CEO now) has also worked in the trenches (literally).