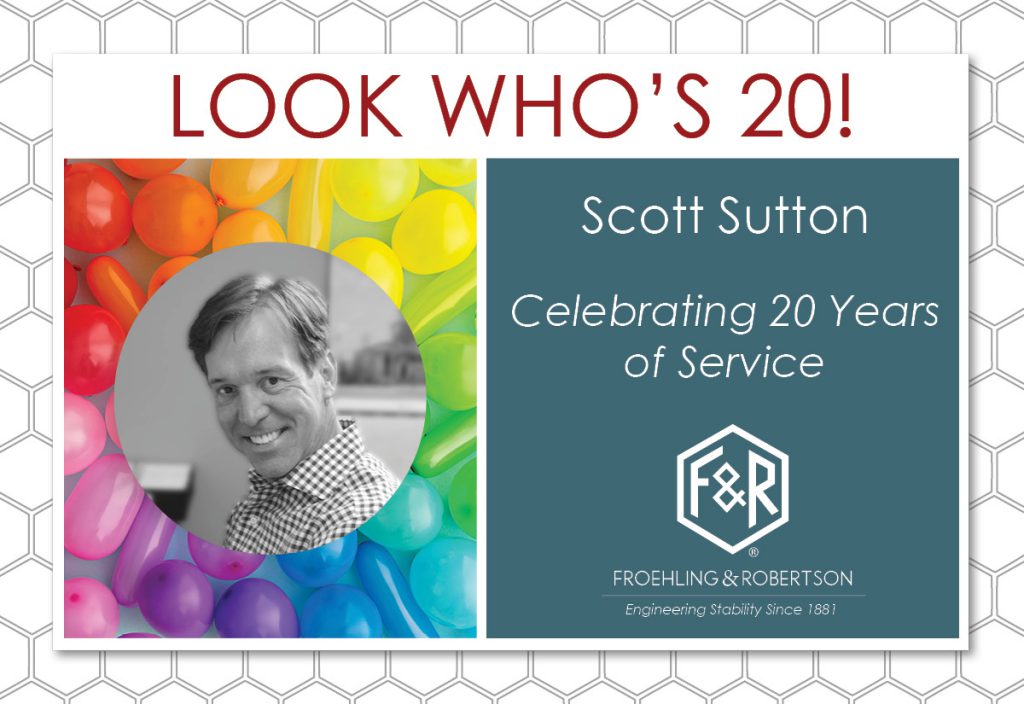 F&R is celebrating Business Developer Scott Sutton's 20 years of service!
20 Years. In jam band time that's almost a whole song! Scott's primary focus is on the Richmond and Fredericksburg markets, but after two decades in business development, it seems like Scott knows somebody at nearly every company we work with all across the Mid-Atlantic. And that's the key to Scott's uncanny knack for BD…either clients become friends or friends become clients. When asked about his time at F&R, Scott had plenty to say (as any good Business Developer would!) His words are below, followed by notes from several coworkers who obviously hold him in very high regard. We can't wait to see what tune Scott plays next!
A few words from Scott Sutton:
"I love F&R because we strive every day to be the best at what we do. Even after 139 years, I feel like F&R's best days are still ahead of us. We have great leadership in Mike Matthews and Sam Proctor and a strategic plan that defines who we are and where we want to go. I've never felt more energized and happy to be a part of this company.
Many of my best F&R memories include BD-Legend Alan Tuck. Quick with a story and smile, he has always been reassuring, willing to share his vast knowledge, and always understanding. I love the people of F&R. They are experienced, knowledgeable, and dedicated. They create such a family atmosphere that I wouldn't want to be anywhere else."
Notes from his F&R Family:
"Scott is a ray of sunshine on a cloudy day. His attitude is always upbeat and positive and everyone that knows him loves him. Scott's experience in Virginia with architects, contractors and developers has been forged from his many years of networking and developing relationships with key decision makers on the largest projects in the area. Scott loves to chase projects and find the best ways for F&R to serve our clients and community. Here's to 20 more years!"
~Jackie Clingenpeel, Marketing Associate
"I am always amazed by how well Scott is connected with and genuinely liked by our clients and business associates. Go around town and it feels like he always "knows someone who knows someone," be it a high school or college connection, or from his years on stage as the lead singer for a rock n' roll band, or through his fanatical support of the Richmond Kickers soccer team. Scott has for two decades taken volunteer leadership roles in many civic and business organizations. He is one of the best informed people in the Richmond market regarding land development. Always with a smile on his face and a note pad in his hand, Scott contributes to the success of the Richmond office every day."
~Sam Proctor, Chief Executive Officer
"Scott is great at developing and building relationships, as he has done successfully for over 20 years in Richmond. He knows how to connect with the right people in order to get the inside scoop on the market. He is also one of the few people who can successfully mix plaids and stripes and still look sharp!"
~Paul Bryan, P.E., Corporate Director of Business Development
"Congratulations to Scott on his 20th anniversary with F&R. I've enjoyed a great relationship with Scott for all of those 20 years and am proud to have him as a friend of mine. Scott and I have been through a lot of great fun episodes. All BD folks have different "secrets of success". Somewhere along the way, I became aware of the fact that Scott really had his finger on the business pulse of most of the movers and shakers in Richmond. I mean to tell you that I was really jealous of the kind of relationships Scott had with his local Richmond people, but I finally uncovered one of his secrets of success: a total of 100 gallons a year of Starbuck's coffee for his clients. I guess he got them hooked on Starbuck's, so they had to stick with him! Scott, it has been a wonderful 20 years together and the BEST is yet to come."
~Alan S. Tuck, Executive Director Code Compliance and Training
"Wow! 20 years, what an accomplishment. I met Scott through a Randolph-Macon networking event prior to me coming to work at F&R. Obviously he represented the company well because within six months of us meeting I was also working here. It's been great working with a fellow yellow jacket and I look forward to many more years!"
~Stephanie P. Golembeski, Business Development Director