Half a Century of Contributions to the Science and Craft of Construction Engineering.
Today F&R celebrates Alan Tuck and his Half a Century of dedicated service and contributions to not only F&R but to the entire construction engineering profession. Alan started his career with F&R in 1964 as a materials technician and fulfilled many duties including senior field technician, radiographic assistant, drill rig operator, laboratory technician, and structural steel inspector, quickly being promoted to Branch Manager of the Roanoke office in 1966. Over the next few decades, Mr. Tuck also managed F&R's operations in Norfolk, Lynchburg, and Chesapeake, Virginia.
Throughout his career, Alan has been an advocate and educator for the construction engineering community. He began training others in the Building Code before the term "Special Inspections" was even born! In fact, in 1994 he wrote a 27-page Construction Specifications Institute (CSI) Monograph entitled "Special Inspection Services" that was adopted and incorporated into the Special Inspections programs of numerous jurisdictions across Virginia. From the Southern Building Code of the 1960s to BOCA of the 1990s and into the IBC of today – Alan has been training and educating architects, engineers, and contractors by walking them through each change to the building code and how it impacts their work. His time teaching has provided thousands of CEU's for the design and construction community over the years!
Alan left F&R briefly many years ago because he said "the grass just looked greener on the other side of the fence. But, once I was there I looked back and realized the grass had actually been greener at F&R." When asked why he returned, he replied, "Family and Loyalty. I remember when Arnold Proctor (father of our current CEO, Sam Proctor) would walk through the office, greeting everyone by name and thanking them for their work. There has always been an intense loyalty between F&R and their employees."
After so many years, some may wonder what compels him to continue working into his golden years. To this, Alan says, "Well, based on my hair color, it may be my silver years, but I just love to teach people and help them to be more knowledgeable than before I met them. I think that when all is said and done, what is left behind is what we have left of ourselves with the people who have known us. I hope to leave a lot of code knowledge and special inspections know-how – that would be good."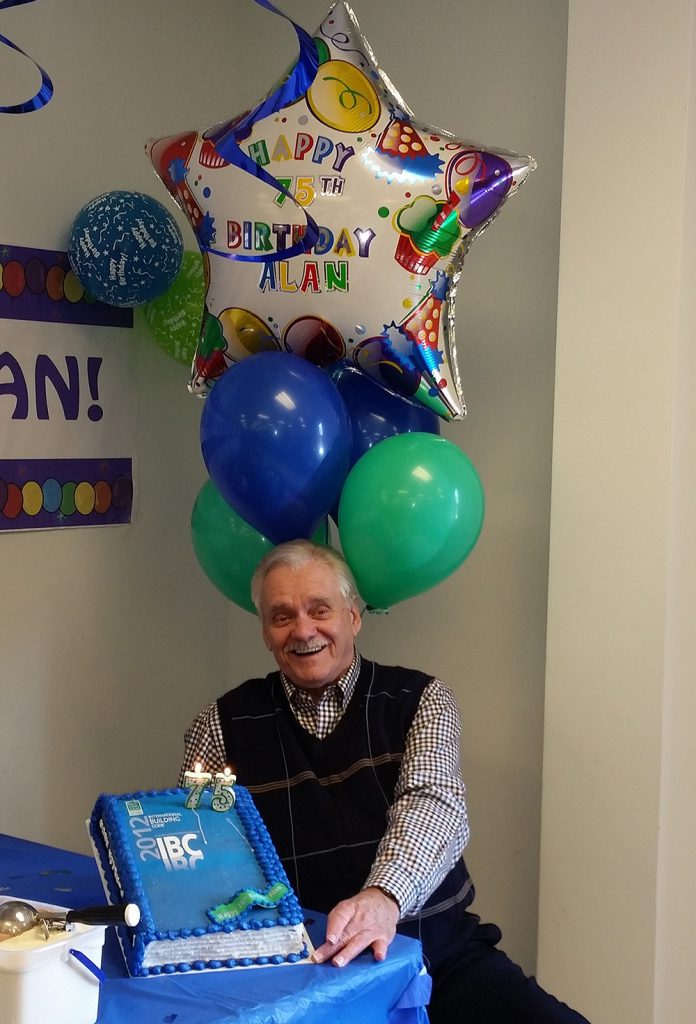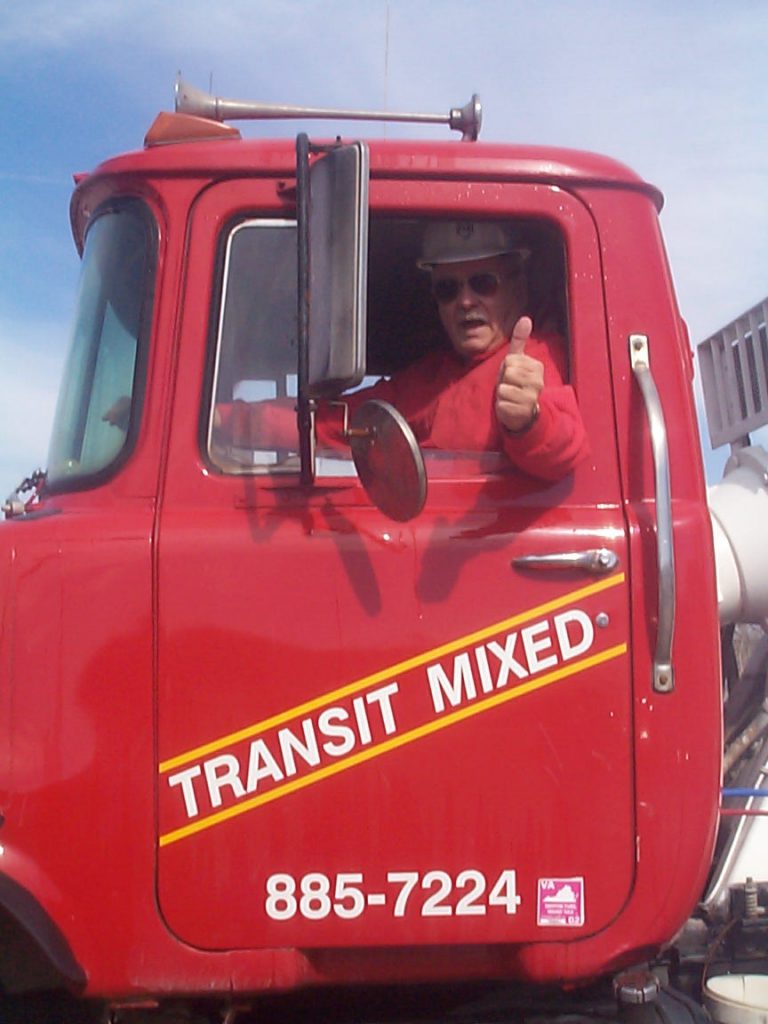 Based on these words from Alan's colleagues, he has already built quite a legacy:
"I have been very fortunate to have worked with Alan for 32 years. I joined F&R full time after coming off active duty in the US Army. Alan was the "Top Manager" for F&R at that time, managing the Chesapeake Branch. My parents, wanting me to learn from the best, sent me to work with him. While there, Alan introduced me to all aspects of branch operations, soils and concrete lab and fieldwork, metals services, drilling, and invoicing. He gave me the space to learn new things and the opportunity to make mistakes. I could not have asked for a better mentor. I am always in awe of his prowess in concrete. To work a mix design with him was an act of performance art! Looking at his work over the years in Roanoke, Chesapeake, Richmond, Business Development, and QA/QC- Alan is one of the most influential people in the 139-year history of F&R and he is one of the kindest gentlemen you will ever have the pleasure to know." ~Sam Proctor, CEO
"Alan Tuck is a true F&R original. He has an abundance of knowledge and experience working with clients all across the Mid-Atlantic region. Alan has delighted many audiences of architects, engineers, building code inspectors, and others with his numerous AIA presentations. He has educated many on the IBC Code, so many in fact that we often refer to him as the "King of Code". Alan always has a good story to tell, has never met a stranger, and is loved by everyone that has had the pleasure of working with him." ~Jackie Clingenpeel, Corporate Marketing.
"An industry icon, Alan was well over halfway through his career when I first started working with him in the mid '90s.  The saying 'He had forgotten more than I'd ever known' was so true.  Having worked under Alan as a technician and then a staff engineer, I can tell you there is only one way to do something and that is 'the right way.'  I cannot say working for Alan was easy, but I can tell you that when all was said and done, you were not only better at the task, you were a much better person as well.  I have worked with Alan for over 25 years and I can honestly say that there is not a single person that has been more instrumental in making me who I am today than Alan.  I have stories upon stories of where Alan has guided me professionally and personally, I know I'm a better engineer and manager because of Alan, but I'm also a much better person.  So Happy Anniversary my friend and here's to many more." ~Gary Bruce, PE, Regional Vice President
"Alan Tuck is the embodiment of all that is good in F&R.  He is professional, knowledgeable, honest, and client-oriented while retaining integrity.  I have learned so much from Alan: the Code, mix designs, client management, and BD concepts.   When I was in CMT operations in Roanoke, Alan was the inspiration that pushed us to always improve, learn, and grow.   Alan is the Code Evangelist: he actually made us interested in the Code and Standards.  Personally, Alan has been like family to me.  Alan not only cares about the company, but he cares about individuals.  I can't count all the times he has said 'How're you doin' my man?' and then really listened to my answer. He has given me countless hours of personal advice and encouragement.  My only gripe with Alan is that I can't get him to like Chinese food.  Alan, we love you.  Thank you!"    ~ Gary Pasquarell, Ph.D., PE, Vice President, Quality and Technical Training
"Í cannot imagine an F&R without Alan Tuck. He has been a constant supporter and source of knowledge since the day I started. I've sat through presentations on topics that, in lesser hands, would be dull and boring, but that Alan makes come to life through stories that only a veteran of the business can relay. His storytelling expertise doesn't end with code presentations. I would gladly sit for hours and listen to Alan talk with that delightful accent of his. I admire his enthusiasm in serving the company, his humility in his interactions with people, and his integrity demonstrated in every aspect of handling business." ~Shambi Eubanks, Director of Communications
"Alan Tuck is 'Captain Code', 'Mr. Masonry Guru,' 'King of Special Inspections.'  Whatever name you have for Alan, everyone can agree that he is one of the most knowledgeable people anywhere when it comes to the Code, Special Inspections, and anything masonry related.  Any time you have a question, Alan is there to answer it or if he doesn't readily have the answer available he will research it for you and give a detailed response.  Alan is an essential asset to F&R and his experience and stories give you a window into all aspects of the construction world." ~Jessyca Woodruff, PE, Branch Manager
"I remember telling Alan, 'When you retire, I retire.'  He was my mentor and confidant when I was running Business Development.  He has a way of making everyone around him comfortable.  His professionalism is uncompromised.  His personality is warm and engaging, and he has a great sense of humor.  Always wanting to do what is right for the client, Alan is a pleasure to work with and be around.  I learned a ton from Alan, not only about our business, but about how to treat people.  I love working with Alan Tuck."  ~ Scott Sutton, Business Development
"Alan's one of my favorite people.  Not at F&R but on the planet.  You can tell him ANYTHING and nothing shocks him – he's likely heard it all.  I live to make him giggle.  It's music to my ears and it just never fails to make my day.  My 12 years at F&R are a merely a blip on Alan's radar but he has been such a hugely positive part of my experience that I cannot imagine my time here without him.  Alan has also single-handedly kept content marketing alive at F&R with his "Speaking in Code" series…in fact I have had a hard time keeping up with him over the years, he's so prolific on matters of code and inspections.  There is nothing finer than listening to Alan's enthusiastic prose on the subtleties of IBC Chapter 17.1.2.5.3.4.7.sub part b – he is the master and no one can touch him.  Thank you Alan, for your years of work and sweat and wisdom and laughter that have made F&R what it is today.  We love you to bits! ~ Heather Monk, Marketing Director