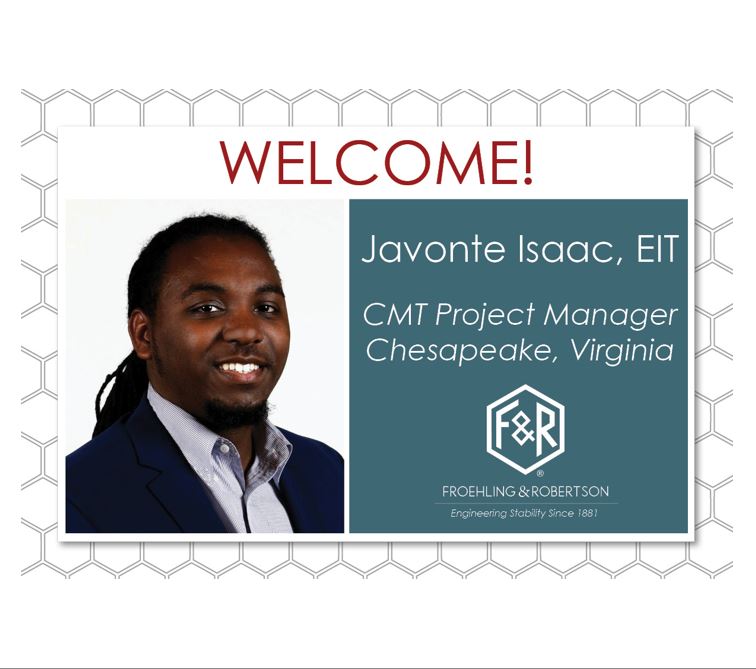 F&R is pleased to have Javonte Isaac, EIT, joining the Chesapeake team as a CMT Project Manager.
Javonte earned a Bachelor of Science in Civil Engineering from the University of South Carolina. He has spent the last few years working as a Project Manager for a reputable geotechnical engineering firm in the Carolinas, working on sizable military, industrial, dam repair, and public works projects.
Javonte grew up in Dalzell, South Carolina, a small town near Sumter. This is where he developed a fascination for engineering and construction, helping his grandfather with building projects. "I've always liked working with my hands, thanks largely to that time with my grandfather," Javonte says. "Then, in school, I had a knack for numbers, so a career in engineering seemed like the logical choice."
Javonte was not only gifted in mathematics, but also in athletics: playing football, basketball, and golf throughout his time in high school and college. He was a two-time Intramural Competitive League Champion in college and, since graduating, has continued sports activities as often as time allows. He also enjoyed carrying his golfing talents into his engineering career by participating in industry golf events. (Hint: keep him in mind to round out your foursome for that next golf outing!)
F&R is delighted to have such a multi-talented professional joining the team. Welcome, Javonte!