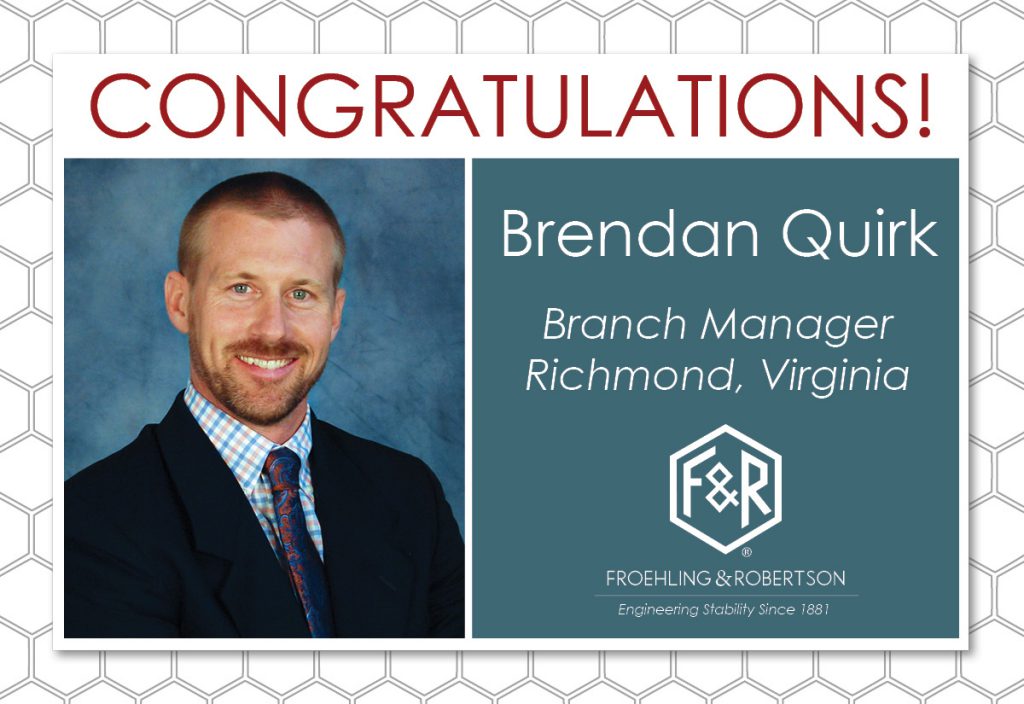 F&R is pleased to announce that Brendan Quirk, PE will be serving as the Manager of our Richmond Branch! Brendan has been with F&R since 2008 when he joined our Crozet, Virginia office as a Geotechnical Engineer. In recognition of his leadership abilities, he was promoted to Branch Manager of our Hunt Valley, Maryland office, where he proved himself a capable manager with excellent people skills. Brendan later relocated to the Richmond office to serve as F&R's Director of Energy Client Services, a role in which he has demonstrated his client-focused approach to leadership.
Brendan has already been working closely with the Richmond technical staff and is knowledgeable of the regional market. As a leader who inspires those around him and advances the quality of every location and service line he has focused on to date, Brendan's efforts here will be a catalyst for the continued success of the Richmond office.
Brendan graduated from James Madison University with a Bachelor's degree in Geology and Earth Science. He then went on to earn his Master's degree in Geotechnical and Geoenvironmental Engineering from Virginia Tech. Early in his career at F&R, he was the project manager for countless CMT projects including sizable academic buildings, apartment complexes, parking garages, and collegiate student housing. As a result of his exemplary work in the realm of construction materials testing, he was recognized as F&R's 2014 CMT Professional of the Year. Later, as Hunt Valley Branch Manager, he was recognized as F&R's 2018 Manager of the Year. During his time as Director of Energy Client Services, Brendan has interacted closely with some of F&R's largest clients and been responsible for generating new relationships within the Energy sector. In his new role as Richmond Branch Manager, Brendan will continue to serve as the Primary Account Manager for some of these key energy clients.