Noah Roberts joined F&R in 2010 as a System Support Specialist after being honorably discharged from the United States Marines Corps. Noah served 5 years with two overseas deployments in the Marine Corps where he designed, implemented, and maintained computer systems all around the world. This knowledge coupled with his motivation, strong work ethic, and critical thinking abilities quickly advanced him through the ranks in IT while establishing himself as a reliable and responsive problem-solver for F&R. Noah's strong background in Networking and Security has played a key role in the evolution of F&R's IT infrastructure over the last ten years, which allows us to communicate seamlessly and serve clients efficiently every day.
In his initial interview, Noah was asked where he saw himself in the future (or 5 years from now depending on who you ask). Noah quickly responded to Ken Dalton, the CTO at the time, "in your chair". Today he is one step closer to that goal, but has not shown any signs of slowing down that we can detect. Already certified in Cisco, Microsoft, A+ and CompTA, Noah is now working towards earning his B.S. in Information Systems.
As a youngster, Noah's curiosity lead him to dismantle everything he could get his hands on from electronics to engines. If you ask his parents, this was a very rough time, as it was not until later in life that he actually learned to re-assemble these items. He thoroughly enjoyed these problem-solving exercises, and his ability to understand and dissect technology came naturally, which lead him down the path he is on today. When Noah is not saving the world one keystroke at a time, you can bet he is either spending valuable time with his beautiful wife and two adorable little boys, or enjoying some "me" time riding his motorcycle down some back country roads.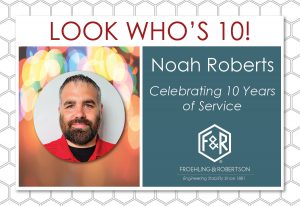 August 31, 2020
Today F&R celebrates Noah Roberts' 10th year of service! Noah now serves in the vital role of Director of IT, but his career at F&R almost ended before it began when a flat tire sidelined his initial interview. Thankfully, he and Ken Dalton rescheduled and Noah has been busy keeping F&R IT systems "driving smoothly" since then.
"Before starting at F&R, Noah served in the Marine Corps. He carried that sense of duty and respect into his civilian life. He is the first to volunteer, first to open the door for others, first to help with any task. Noah excels at analytical skills. Problem-solving and logical thinking make him great at his job and he has taken the F&R network infrastructure to the next level. Noah is also a great leader, leading by example, mentoring and inspiring those around him."
~ Ken Dalton, Chief Administrative Officer